Our story: Why we chose Amsterdam (why Amsterdam chose us)
A massive thank you to the kind wonderful man that is Luke for buying this trip for me as a birthday present! A little back story – last year Luke and I went to Amsterdam on 48-hour adventure with 10 others, friends and family, way before we decided we would start dating. Stayed in separate locations (as a 12-man Airbnb wasn't a reality and hostels were vetoed by over 50% of the gang). So being able to revisit this glorious city under new and improved circumstances was truly lovely! Also a dropped a few hints I wanted to go back and go to a few places I wasn't willing to visit with family  'cough' sex museum 'cough'.
Amsterdam, known as the "Venice of the North" due to its beautiful canals, has something to offer every type of traveler. Whether you're a foodie, art lover, history buff, or just someone looking for a unique experience, Amsterdam's diverse cultural offerings and relaxed lifestyle make it an excellent weekend getaway. Here's a guide on what to eat, where to go, and the best time of the year to visit this charming city.
What is the best time of year to go to Amsterdam?
Between us we've been to Amsterdam a staggering 8 times. It's not that staggering but when there are literally tens of thousands of other places to visit, this is definitely one we've come to know well. For that reason, we've hit almost every season. Here are some notes to help you make your decision.
Winter
Extremely cold, a frosty chill in the air, ladies bring thermals to wear under your leggings. Less visitors so some more freedom to explore without heavy crowds. Christmas markets?! Magical New Years displays? 
Lights Festival in Nov-Jan: The Amsterdam Light Festival, held annually from November to January, is an absolute treat. Artists from around the world create dazzling light installations that are displayed throughout the city's canals and streets.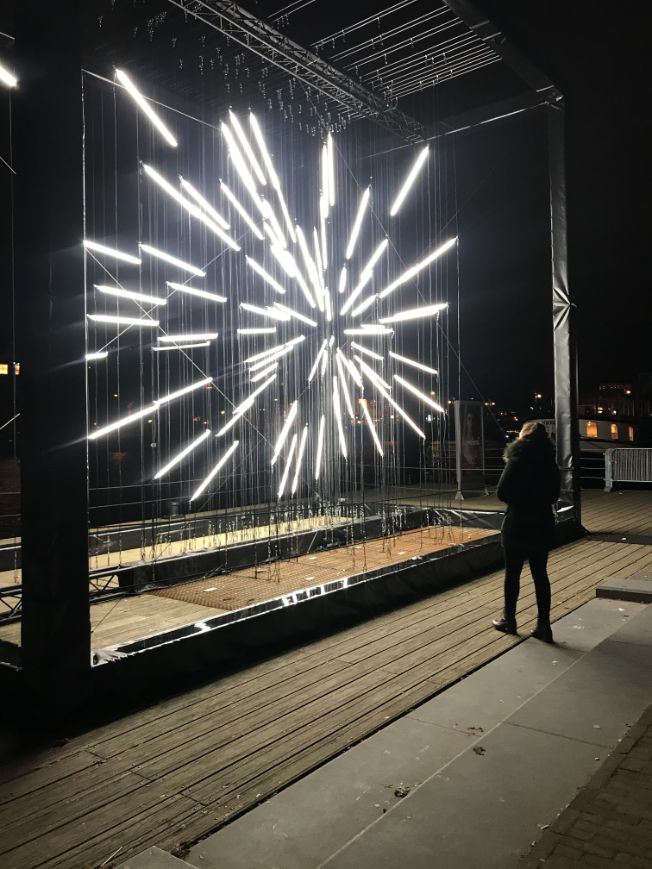 Spring 
Goldy locks will call this time of the year 'just right' altthough it starts getting busy! It's not so hot you're wondering where the water is … if you're part caring in the green herby friend summer might be a little too warm for the unseasoned recreational users.
Summer 
Hot, busy, and blooming beautiful! Do you like what I did there 'blooming' because of the tulips ,:). Here's a thought..Why not camp?! It's only a short drive or tram from the city and super sociable! 
Summer is also a great time to visit, especially if you plan to explore the city's coffee shops. The weather is warm and perfect for wandering the city's streets, visiting outdoor markets, or taking a canal cruise.
Autumn
The beginning of Autumn is still quite warm! Check the forecast of course but you might end up in shorts (thanks to global warming.) it's a busy time of year with lots of music events and festivals dotted around the city.
Autumnal Alternative: As winter can be quite chilly, autumn is a fantastic alternative. Enjoy the city's vibrant fall colors and fewer tourists, and it's also a perfect time to explore Amsterdam's many parks, like the famous Vondelpark.
4 Must Do Things in Amsterdam 
During the short time we had in this wonderful land of fine art, tulips and pancakes. 
I have this vision of us walking the lights festival at night when I put my phone away and go to put my glove on. However, somewhat inebriated I drop my glove and the wind picks it up and carries it at an alarming pace towards one of the many canals around Amsterdam and Luke (the chivalrous man that he is) starts to run – face first – towards my glove and (also somewhat inebriated) manages to kick my glove to the edge of the canal where he proceeds to dive for it and captures it in the nick of time. Cut to. I've been standing perfectly still entirely unphased waiting for the return of my glove watching this scene unfold. Cry laughing!!!! The entire time. Anyways, I digress …
Ton Ton
This unique arcade bar is a must for gamers. The Ton Ton Club in the Red Light District offers an array of arcade games from the '80s and '90s. Enjoy some nostalgic gaming while sampling the local beers.
Coffee Shop
Amsterdam is famous for its coffee shops, where the sale and consumption of cannabis are permitted. It's essential to be responsible and informed about local laws before you decide to visit. Check out The Bulldog, one of the city's most well-known coffee shops.
Van Gogh Museum
An art lover's paradise, the Van Gogh Museum is home to the largest collection of Van Gogh's works worldwide, including over 200 paintings, 500 drawings, and 700 of his letters. Try to book your tickets online in advance to avoid the queues.

Sex Museum
This museum, formally known as the Venus Temple, is the world's first and oldest sex museum. With an extensive collection of erotic art, artifacts, and exhibitions, it provides a unique historical perspective on human sexuality.
Amsterdam: A Culinary Adventure
Amsterdam is a city where culinary delight and cultural experience intertwine effortlessly. As you meander along the city's cobblestone streets and charming canals, the intoxicating aroma of street food and the tantalizing scent wafting from small cafés and bakeries may inspire a gastronomic exploration of the Dutch capital. Below, we've expanded on some local delicacies that are simply not to be missed.
Pancakes: A Dutch Delight
To truly embark on a culinary journey in Amsterdam, begin with their renowned pancakes. Dutch pancakes, known as "pannenkoeken," are thinner than American pancakes but slightly thicker than crêpes. Traditionally, they're enjoyed with a variety of sweet and savoury fillings, from the classic apple and cinnamon to cheese, ham, and even smoked salmon.
You will be spoilt for choice at establishments like the Pancake Bakery and Pancakes Amsterdam, where a cornucopia of pancake options awaits. Picture a steaming plate-sized pancake, crisp at the edges, with a moist, tender center, generously topped with bacon, banana, and a drizzle of authentic Dutch stroop (syrup). It's a hearty and satisfying delight that will have your taste buds singing in joy.

Hagelslag: More than just Chocolate Flakes
Hagelslag, literally translating to 'hailstorm,' is a uniquely Dutch phenomenon. These tiny chocolate flakes might remind you of sprinkles or jimmies used in American desserts. However, in the Netherlands, hagelslag is typically enjoyed as a breakfast treat, generously sprinkled over a slice of fresh, buttered bread. The contrast between the sweet, melt-in-your-mouth chocolate flakes and the crunch of the bread offers a sensory experience you wouldn't want to miss.

Steak: A Carnivore's Dream
If you're a meat enthusiast, Amsterdam's steak houses will not disappoint. At the heart of this carnivorous dream is Loetje, famous for its "biefstuk," a succulent, perfectly cooked steak bathed in a rich, luscious gravy. Each bite is a revelation, the juicy tenderness of the steak melting in your mouth, enhanced by the depth and complexity of the savory gravy. This indulgence is usually served with a side of crispy "frites" (fries) and a simple salad for a perfectly balanced meal.
Coffee: Beyond the Ordinary
Amsterdam's coffee culture is a burgeoning landscape of unique flavors, brewing techniques, and the timeless charm of cosy, inviting coffee houses. The city is brimming with specialty coffee shops like Lot Sixty One and Bocca Coffee, where the art of coffee-making is practiced with passion and precision. Whether it's a robust espresso, a creamy cappuccino, or a simple black coffee, each cup is a testament to the barista's skill and dedication to the craft. Complement your coffee with a Dutch "stroopwafel"—a sweet treat made of two thin waffles stuck together with a layer of sweet syrup—for a perfect coffee break.
Van Stapele Koekmakerij: The Famous Cookie Shop
No trip to Amsterdam would be complete without a visit to Van Stapele Koekmakerij, the famous cookie shop nestled in a narrow, 17th-century building on the Heisteeg. They sell just one type of cookie, but it's the only one they need. This magical confection is a dark chocolate cookie filled with a gooey, white chocolate filling. As you bite into the slightly crispy exterior, the molten white chocolate interior flows out, a symphony of contrasting textures and decadent flavours. These cookies are lovingly baked fresh throughout the day, filling the shop (and the street outside) with a heavenly aroma. It's an indulgence you simply can't afford to miss when visiting Amsterdam.
Embarking on a culinary adventure in Amsterdam is more than just satisfying your hunger—it's an opportunity to connect with the city's vibrant culture, history, and the people who infuse their passion into every morsel they create.
Conclusion
No matter when you choose to visit, Amsterdam is a city full of surprises. Remember to try local delicacies, visit its unique museums, and most importantly, respect the local culture and laws. With these