Affiliate Disclosure: I only recommend products I would use myself and all opinions expressed here are our own. This post may contain affiliate links that at no additional cost to you, I may earn a small commission when you purchase. These commissions help with the running costs of this website, if you do purchase via one of the product links many thanks it is greatly appreciated!
What Are Screen Printing Kits?
Screen printing kits come with all the tools necessary for creating your own artwork to get started with screen printing. Most kits come with a pre-stretched frame, which is made out of wood or aluminium and holds a piece of mesh tightly across its surface. Screen printings kits may also include:
Squeegees (which help push ink through the mesh)
Emulsion (used to coat the mesh)
Acetate films (used to create stencils) / film positives for making screens from computer-generated designs
Emulsion remover
Exposure bulbs.
Some kits will also come with pre-made stencils or templates so you can start creating your own prints right away
We've reviewed the best screen printing starter kits for beginners, to show you which kit offers you the best value for money!
While it's usually advised to buy kits separately in order to get yourself better quality, these kits have been designed specifically to get you started on your screen printing journey. We've taken the best starter kits and reviewed them individually to help you make the most informed decision, ensuring you have decent equipment at a good price, without having to spend hours researching yourself. Here's what we found…
Compare Screen Printing Kits & T-Shirt Printing Kits
Scroll Below Table For Details
What Are We Looking For In Screen Printing Kits?
Here's a list of the basics you should be looking for in your screen printing kits…
Screen Print Frame & Mesh
We'll be looking at whether each kit provides you with the screen print frame and mesh, necessary for screen printing. Not only that but we'll be looking at the size of the screen that's on offer and of course the mesh count.
There are a wide variety of screen printing inks out there. From water-based inks to plastisol inks and so much more. We'll take a look at how many different inks you get with each pack as well as the type of ink given and of course the amount.
Screen printing emulsion is the thick, liquid substance that reacts to light. The screen printing emulsion will become tougher and more solid once it's exposed to light which in turn prevents the above screen printing ink from penetrating it. We'll look at each screen printing kit to see which one offers the emulsion and which ones don't.
Your squeegee is there to spread your ink through the mesh onto your design. While only a small piece within a screen printing kit, it's a vital piece. We'll be looking at each screen printing kit to ensure they provide this vital tool, while also looking at the size squeegee provided.
Screen Printing Exposure Light
Your exposure light is what you'll use to 'expose' your screen printing emulsion and solidify it against the mesh. Emulsion lights come in all different shapes and sizes and can incorporate different watt bulbs. We'll be looking at what exposure lights, if any, are included in your screen printing packs.
Screen Printing Transparency Paper
Your transparency paper is a simple, thin sheet of translucent paper. It's a flexible material that you can draw images onto and subsequently use as a stencil to block the light to transfer your design onto your screen once coated in your screen printing emulsion. All packs within this review will be checked to see whether they provide transparency paper and if so, how much they offer.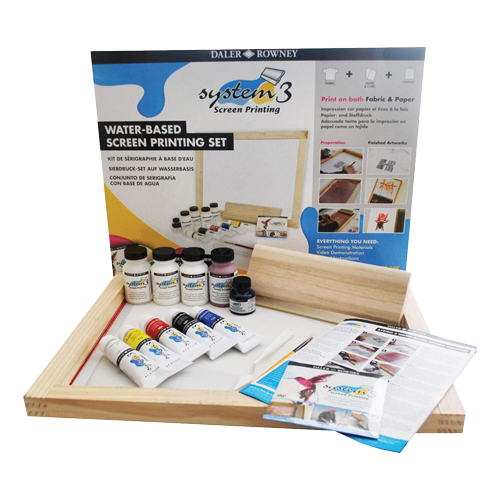 1. System 3 Printing Set by Daler Rowney
Screen Print Frame & Mesh
Screen Printing Transparency Paper/Stencil
If you're looking for a kit that offers everything you need to get started then the System 3 Printing Set by Daler Rowney is a great choice. Not only does it come with a great amount of items within the one kit but it offers quality products within it.
Yes it could be considered a little pricey compared to some of the other kits on our list but considering the quality and amount of products you get within it, particular the ink, we'd say it's actually pretty good value for money. If you're a beginner looking for a quality kit to get you started, this is it.
Buy On Amazon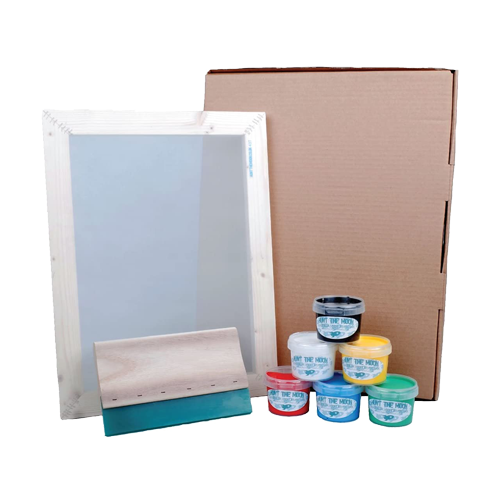 2. Hunt The Moon Screen Printing Kit

Screen Print Frame & Mesh
Screen Printing Transparency Paper/Stencil
The Hunt Moon Screen Printing Kit is a personal favourite and one that we've used on more than one occasion. The screen within it is of A4 size and you get a great selection of coloured inks included too. It's priced comparatively cheaper than the majority of other kits out there, yet despite this, you get a fair amount of use out of it. If you're looking for a kit that provides step by step instructions then this may not be for you but if you're simply looking for a kit to provide you with everything you need, this is a great option.
Buy On Amazon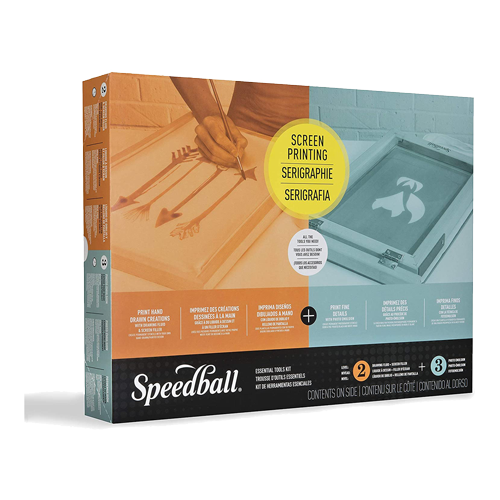 3. Speedball Fabric Screen Printing Tool Kit

Screen Print Frame & Mesh
Screen Printing Transparency Paper/Stencil
The first thing that people notice about this kit is that it's a little pricey in comparison to others. While we can't deny this, what we will say is that Speedball are known for their screen printing starter kits, in fact you could say they're a go-to company for exactly that.
The kit in questions offers everything, including photo emulsion and emulsion remover which isn't included in any of the other kits we're reviewing. Yes it's a little extra in terms of cost but what you pay extra, you gain back in products and high quality products at that. With Speedball, you can't go wrong.
Buy On Amazon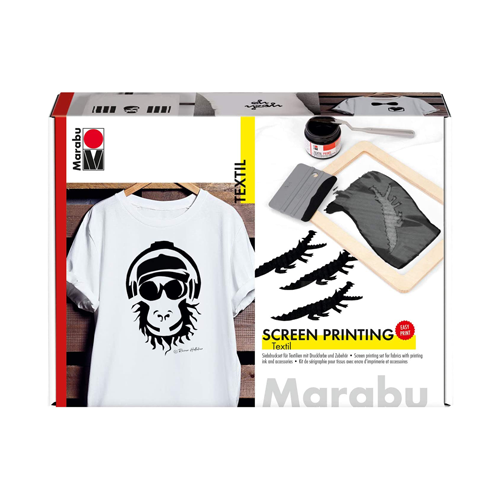 4. Marabu Textil Screen Printing Set
Screen Print Frame & Mesh
Screen Printing Transparency Paper/Stencil
The Marabu Textil screen printing set is perhaps one of the more basic sets on our list. Having said that, you get the basic kit for a much lower price. It's great for beginners and for those looking to create their own design and put a totally original design through the screen printing kit.
While many will say you get what you pay for, we think this kit is ideal for those wanting to print a basic stencil design. Perfect for beginners, cheap and all round great kit for beginners.
Buy On Amazon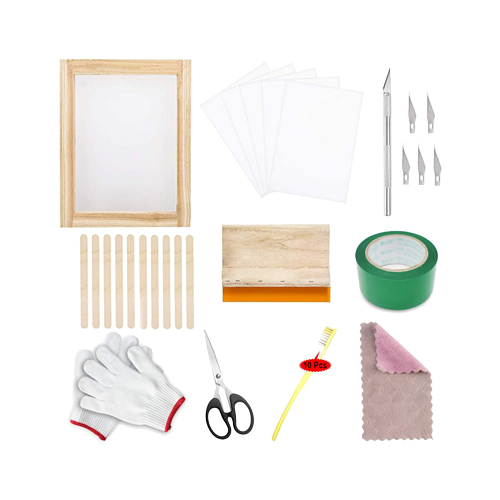 5. Silk Screen Frame,Screen Printing Set

Screen Print Frame & Mesh
Screen Printing Transparency Paper/Stencil
The Silk Screen Frame and Screen Printing Kit is the last on our menu to review and by no means the least. This kit is a fantastic option for beginners and beyond. Not only is it incredibly well priced but you get a lot of kit for your money too.
What's more, you also get great quality kit too, that will give you the tools you need to start screen printing straight away. This is a great set that provides you with quality tools and won't break the bank. It's a great choice if you're just starting out.
Buy On Amazon