Plovdiv, the second-largest city in Bulgaria and one of the oldest cities in the world, is a treasure trove of history, culture, gastronomy, and captivating landscapes. In this guide, we provide an ideal itinerary for a week-long vacation, covering local food to savour, activities to keep you engaged, and must-visit sites. 
Brimming with rich history, Plovdiv, one of the world's oldest inhabited cities, beautifully combines the remnants of past civilizations with modern Bulgarian culture. This vibrant city, resting on seven hills, is an appealing blend of ancient landmarks, bohemian art district, and bustling cafes. Whether you're a history enthusiast, art lover, or foodie, Plovdiv provides an enriching, immersive experience. In this guide, we offer an itinerary for a memorable week-long stay, spotlighting local gastronomic delights and engaging activities, along with highlighting an expanded list of must-see sites.
---
Food to Eat
Traditional Bulgarian Cuisine at Happy
Begin your gastronomic adventure at the popular local chain, Happy. Offering an extensive menu of Bulgarian dishes alongside international options, this vibrant eatery serves a delightful mix of traditional and contemporary food. Must-try items include the classic Shopska salad, Kavarma (a traditional meat stew), and a selection of Bulgarian wines.
Fine Dining at Hemingway Restaurant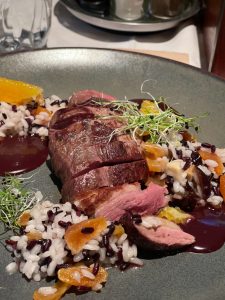 Plovdiv's culinary scene goes beyond traditional fare, and Hemingway Restaurant is proof of this. This upscale establishment specializes in international cuisine with a modern twist, served in a cosy and stylish setting. Their menu is seasonal, ensuring fresh and high-quality ingredients. Don't miss their exquisite desserts and extensive wine list, featuring both local and imported selections.
The Best Gelato in Plovdiv
When it comes to cooling off after a day of sightseeing, few things beat indulging in a scoop (or two) of artisan gelato. Gelateria Afreddo is a local favourite, widely recognized for its creamy, rich flavours made from fresh, locally-sourced ingredients. From traditional options like chocolate and vanilla to unique ones like lavender or Bulgarian yoghurt, this charming gelateria has something for everyone.
---
Things to Do
Take a Stroll Down the Pedestrian Street
As one of the longest pedestrian streets in Europe, Plovdiv's main street offers an array of shops, restaurants, and cafes. Here you can admire the city's modern architecture, shop for souvenirs, or enjoy a leisurely coffee while people-watching.
Engage with Local Culture at the Kapana Creative District
For a dose of creativity and culture, head to Kapana, Plovdiv's arts district. This vibrant neighbourhood hosts music festivals, art exhibitions, and craft fairs, while its picturesque streets are lined with galleries, boutiques, and creative workshops.
Experience Plovdiv's Nightlife
Experience the city's vibrant nightlife by visiting local bars and clubs. For an unforgettable night, head to Cat and Mouse, a craft beer bar situated in a beautifully restored building in the Kapana district.
Fun in the Sun: Water Parks in Plovdiv
If you're visiting Plovdiv during the hot summer months, taking a day off from sightseeing to cool down at a water park can be a delightful experience. Offering a range of water-based attractions, these parks provide fun and excitement for the whole family. Here's a look at some of the top water parks in and around Plovdiv.
Aqualand Plovdiv
Aqualand Plovdiv is the city's premier water park, featuring a variety of water slides, pools, and play areas that cater to both thrill-seekers and those looking for more leisurely enjoyment. Key highlights include a wave pool that mimics the ocean's ebbs and flows, a lazy river for a tranquil tubing experience, and a dedicated children's area with smaller slides and a splash pad. The park also offers plenty of sun loungers and parasols for visitors seeking relaxation.
Benefits of visiting Aqualand Plovdiv include its convenient location in the city, ensuring easy access. Moreover, the wide range of attractions ensures fun for all age groups. On-site amenities such as lockers, changing rooms, and a restaurant serving a variety of meals and refreshments add to the convenience of your visit.
Aqua Park Primorsko
While not in Plovdiv itself, Aqua Park Primorsko is worth the drive for a full day of water-based fun. This expansive park boasts a large selection of water slides, including multi-lane racing slides, twisting tube slides, and an adrenaline-pumping kamikaze slide for thrill-seekers. For those looking for more relaxed enjoyment, the park features a slow-flowing river ride and a large pool for leisurely swimming.
One of the primary benefits of Aqua Park Primorsko is its size and the extensive variety of attractions, making it possible to spend a whole day without running out of things to do. The park also offers free sunbeds and umbrellas, ensuring visitors can relax comfortably when they need a break from the water. The on-site food court provides a range of dining options, including traditional Bulgarian dishes and international cuisine.
Visiting a water park can be an enjoyable diversion from traditional sightseeing in Plovdiv. Besides offering a refreshing respite from the summer heat, these parks also provide an opportunity for physical activity and fun. The various slides, pools, and play areas cater to all ages and preferences, ensuring a memorable outing for the entire family.
---
Places to See
The Ancient Theater of Philippopolis
Built during the reign of the Roman Emperor Trajan in the 2nd century AD, the Ancient Theater of Philippopolis is one of the best-preserved ancient theaters in the world. It's an impressive structure, originally accommodating around 6,000 spectators. Today, it serves as a venue for various performances and events, offering a unique blend of antiquity and vibrancy.
Plovdiv Old Town
A labyrinth of winding cobblestone streets, Plovdiv's Old Town will transport you back in time. This architectural and historical reserve showcases the different epochs of Plovdiv's past, from Thracian to Byzantine to Bulgarian Revival times. Don't miss the beautiful Balabanov and Hindliyan houses, showcasing ornate National Revival architecture.

Plovdiv Regional Historical Museum
Comprising four separate buildings, the Plovdiv Regional Historical Museum provides a fascinating insight into Plovdiv's history. Highlights include an exhibition on the Unification of Bulgaria in 1885 and a significant collection of Thracian artifacts.
Nebet Tepe
Dating back to 4000 B.C., Nebet Tepe is one of Plovdiv's three historical hills. The remnants of ancient walls and foundations reveal the city's layered history from Thracians, Romans, and Byzantines. The hilltop offers panoramic views of the city and its six other hills, particularly stunning at sunset.
The Roman Stadium of Philippopolis
Constructed in the 2nd century during the reign of Emperor Hadrian, this Stadium once held athletic games for up to 30,000 spectators. Today, the northern curved part of the stadium is visible, located under the main pedestrian street of Plovdiv.
Dzhumaya Mosque
Located in the heart of the city, Dzhumaya Mosque is a symbol of Plovdiv's Ottoman era. Built in 1363, the mosque is one of the oldest and largest Ottoman religious buildings on the Balkans. Its stunning interiors adorned with beautiful frescoes make it a must-visit.
Ethnographic Museum
Housed in the magnificent Kuyumdzhiev House, the Ethnographic Museum showcases over 40,000 artefacts depicting Bulgarian customs, culture, and craftsmanship.
Alyosha Soviet Army Memorial
Overlooking the city from Bunarjik Hill, the Alyosha monument is a 36-foot tall statue of a Soviet soldier, a reminder of the Soviet influence during the 20th century.
---
Each of these landmarks offers a unique insight into the diverse influences that have shaped Plovdiv's identity. Engaging with these historical treasures will make your visit to Plovdiv a truly enlightening journey through time. Don't just see the city, experience it. Immerse yourself in its compelling story, its delightful culinary offerings, and its vibrant culture, and create lasting memories of this Bulgarian gem.
Whether you're a foodie, a history buff, or a culture enthusiast, Plovdiv is sure to offer an enriching and fulfilling vacation experience. Its fusion of ancient history and dynamic modernity, paired with its delectable cuisine, make it an irresistible destination that leaves visitors yearning for more. So pack your bags, put on your comfortable shoes, and get ready for an unforgettable Bulgarian adventure in Plovdiv.